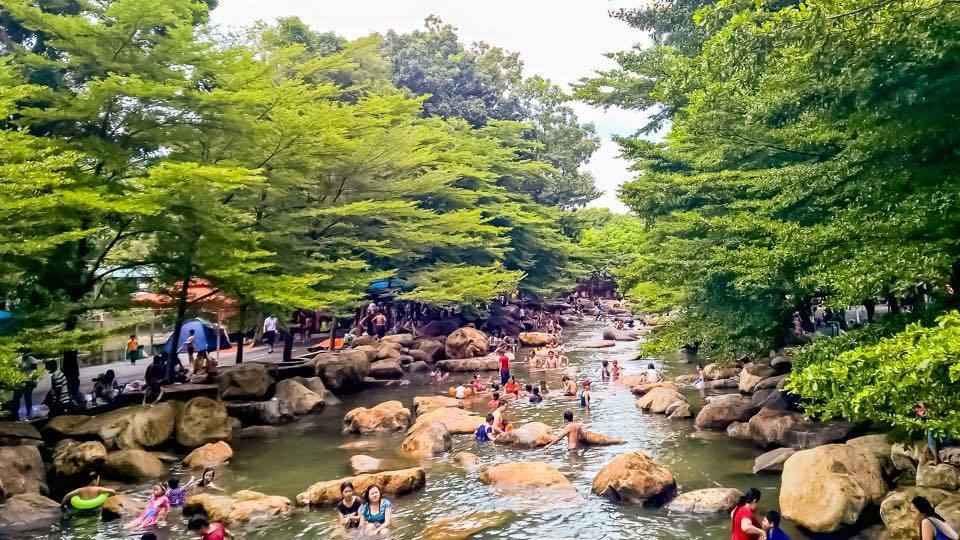 Thuy Chau Ecotourism - Binh Duong Tourist Area worth experiencing
Living in the hustle and bustle of the metropolitan, we only have a short break every weekend to relax. Put aside the fatigue from work and drop into the space of an ecological area - an excellent choice for those who travel but do not have much time. One of the destinations that you can add to your weekend travel list is Thuy Chau tourist area in Binh Duong.
This place is not far from Saigon, so visitors to Binh Duong can straightforwardly come here, freely explore and cool their bodies. Now learn more about Thuy Chau tourist area in the article below.
1. Thuy Chau tourist area
Thuy Chau Eco-tourism is an emerging ecological area of Binh Duong, attracting tourists by its space filled with green trees. Inside, there are a number of artificial lakes and waterfalls that contribute to a fresh and airy space like Da Lat, giving visitors a sense of serenity and relaxation every time they arrive.
When traveling to Thuy Chau, you can freely check-in at different scenes from majestic style to romantic poetry. In addition, you can participate in fascinating entertainment activities to forget all the troubles of daily life.
Not only is it a place for you to come and participate in the activities that the resort organizes, you can still comfortably prepare your own picnic.
2. Check-in the scene of European autumn
The first thing to mention is Thuy Chau artificial waterfall - one of the top incredible artificial waterfalls in Vietnam, bringing a majestic scenery that is no different from the waterfalls that nature creates. In addition, another super artistic point is that the streams and rock crevices are formed lifelike, promising to bring you beautiful pictures.
If you love romance, the romantic scenery at the entrance will make you stop to check-in right away with two rows of trees following to cool your way. Coming to Thuy Chau tourist area in the leaf fall season, you don't need to go far but you still get photos like when traveling to Europe in autumn.
3. Special activities for visitors
When coming here, you can participate in engrossing activities in the water. If you are a nature lover, drop yourself into the cool stream at Thuy Chau waterfall. If you are the type of person who loves modernity, come to the swimming pool.
In addition, you can also organize a picnic with family, friends and colleagues at Thuy Chau tourist area. What could be more wonderful when having a picnic and enjoying the fresh air of the ecological area here.
Traveling on the occasion, you will enjoy the unique art performance activities in the bustling atmosphere of the holiday. It is the thoughtfulness from the construction to the organization of fun movements, this young and dynamic Thuy Chau tourist area has attracted a lot of tourists.
As for food, if you are going on a picnic with your family, you can prepare food in advance and bring it with you. If you are traveling for fun, the restaurant inside the resort is ready to serve the best regional dishes at affordable prices.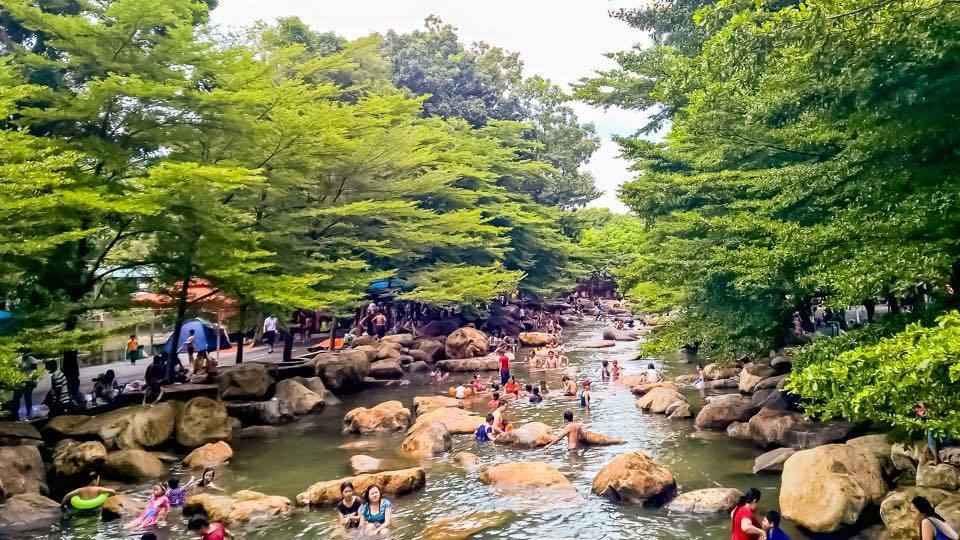 After a busy day at work, why not give yourself a day off? Having time to enjoy the beauty of Thuy Chau eco-tourism area, but it ends one day, you can temporarily stop at the hotel near the tourist area to rest. It is impossible not to mention Long Bao Chau Hotel, which has good service quality.
Long Bao Chau Hotel
Long Bao Chau Hotel Binh Duong - Your "home" in Thu Dau Mot. Long Bao Chau Hotel will bring you the most relaxing and pleasant stay possible. This is also the reason why many tourists keep coming back to the hotel after many years.
Long Bao Chau Hotel is 20 kilometers from Thuy Chau Ecotourism Area. The resort is designed in a luxurious style, fully equipped with high-class facilities with an area of ​​30 - 60 square meters, clean, comfortable, decorated very gently to create a cozy feeling. The staff here are friendly, enthusiastic and professional to help guests have the best experience. Especially, next to the hotel there are many convenient stores 24/7 for snack lovers.
Putting the customer's experience first, Long Bao Chau Hotel will definitely be the ideal stopover for you to continue your next journey in Binh Duong.